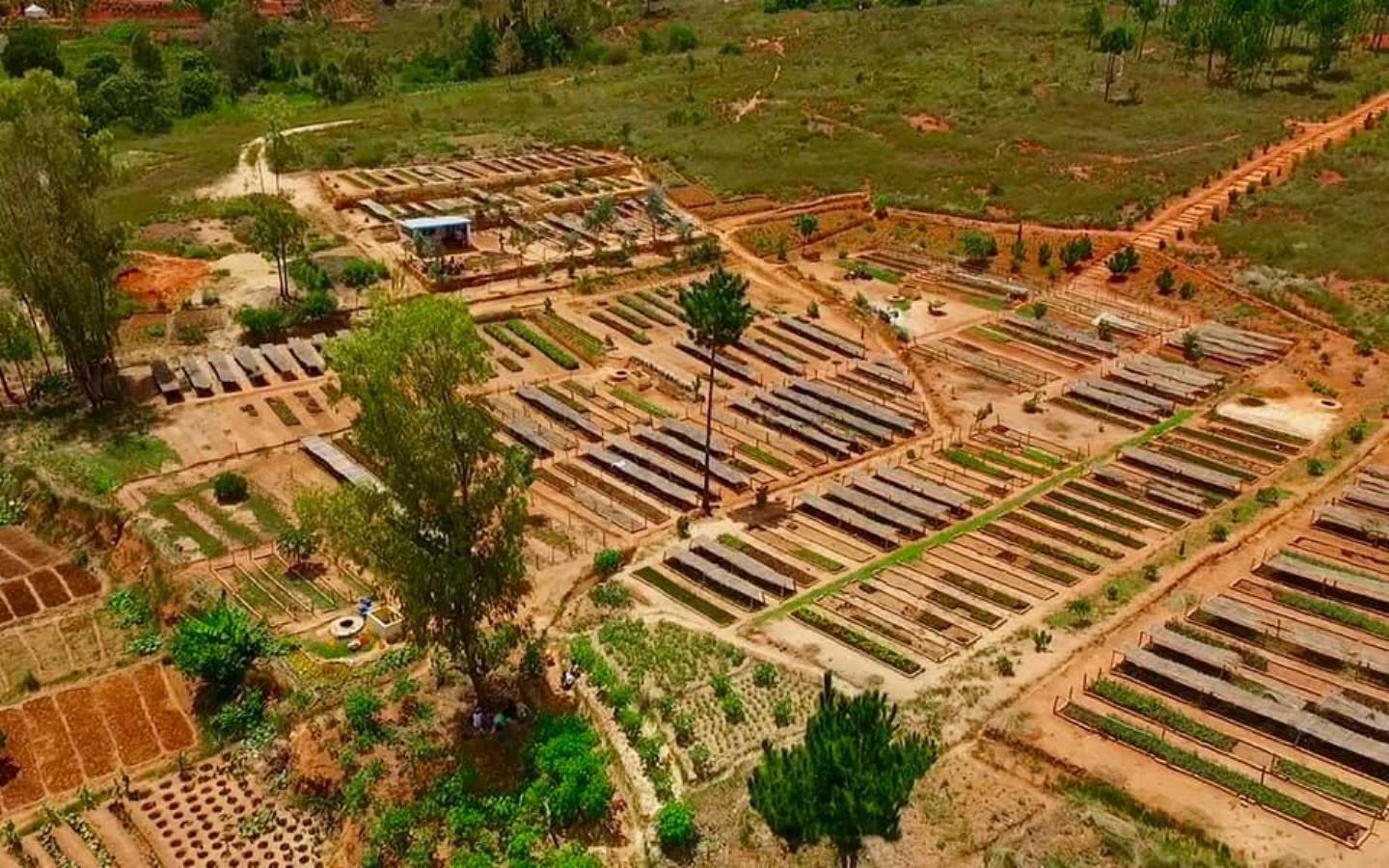 Graine de Vie has become one of the main actors of the forest restoration of the big island:
Since 2009, 45,000,000 trees planted, 306 nurseries spread over 20 of the 23 regions of a country larger than France, 13 mangrove restoration projects, 14 projects for the protection and restoration of Malagasy national parks.
This balance sheet must necessarily be increased by the millions of trees in the BETSIBOKA Region that have not been destroyed thanks to the awareness-raising for the protection of existing forests carried out by our teams in the 171 communes where we have one or more projects (i.e. nearly one-fifteenth of all Malagasy communes).
Projects in Togo: 37 tree nurseries
The project initiated by Graine de Vie and local associations in 2019 consists of raising awareness in the 116 communes of the country about the protection and restoration of their forest resources by creating a tree nursery in each commune. Half of the trees planted are cash crop trees that provide new resources for the population.
The other half are forest trees that provide the population with the wood they need for their daily lives (construction, heating, cooking) and prevent them from going to the reserves and national parks.
Our local team is also developing our "direct seeding" technique in order to adapt it to the specificities of the Togolese territory.
In 2021, we have initiated a monitoring and evaluation of our plantation areas by the University of Kara through its Laboratory of Sanitation, Water Sciences and Environment. In the long term, we plan to issue plantation certificates through our local partners.
Projects in Benin: 20 tree nurseries
 We were quickly approached by a Beninese association called Chaque Enfant a Droit à la Vie (CEDV). They wanted us to initiate the same types of projects with them as in Togo.
We started our actions in Benin in 2020 and now have 20 nurseries spread over 2 departments.
Projects in Cameroun: 13 accompanied municipalities
While demography and slash-and-burn agriculture play a significant role in deforestation in Cameroon, the exploitation of forests and cleared land for the external market plays a central role in the degradation of the environment and the dispossession of agroforestry populations, particularly pygmies. There are also several other causes of environmental deterioration in Cameroon: mining activities, the proliferation of plastic waste, etc.
A team from Graine de Vie went to Cameroon in November 2021 as part of the "pilot project to support local communes and communities in the rehabilitation of their natural environment, following the country's decentralisation law". This project is supported by the Ministry of Environment, Climate and Sustainable Development of the Grand Duchy of Luxembourg.
Projects in Ghana : 7 tree nurseries
Our team in Togo met with villagers in Ghana who also wanted to benefit from tree seedlings. In March 2021, we started our projects in this country with 7 nurseries by mobilising a team managed by Honoré KORADZA.